​Primay One - 1 to 2 Years
This playroom is registered for 9 children who are cared for by enthusiastic experienced staff. The staff of primary one adhere to the North Lanarkshire Effective Early Development and Learning Document which incorporates the Scottish Executive Birth to Three Document.
The playroom has been designed to offer opportunities for your toddler to develop their skills in independence, communication, concentration, creativity and become socially aware of others.
This playroom provides daily opportunities for messy play, role-play, physical play, music and movement.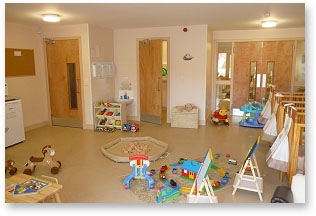 We recognise that your toddler requires to expend a great deal of energy and therefore we will provide daily opportunities for outdoor play in our secure nursery garden.
Your toddler will be interested in the world around them consequently we will plan outings in the local community, according to their interests.
Your toddler will have a designated key worker who will ensure that the settling in process is as smooth as possible keeping you updated on your child's progress daily.