This playroom is registered for 15 children who are cared for by dedicated experienced staff. The staff of primary two utilise the North Lanarkshire Effective Early Development and Learning Document which incorporates the Scottish Executive Birth to Three Document.
The playroom has been designed to offer opportunities for children to shape and direct their own learning in an environment, which will encourage independence, problem solving, exploration and creativity.
Your child will have the opportunity to work alone or in small/large groups during free play in tasks they select themselves. Staff will facilitate and enhance your child's learning through adopting a supportive approach in their interactions.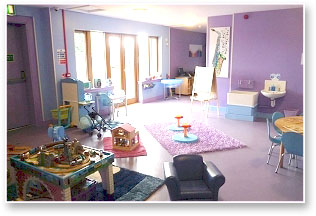 Your child will have daily opportunities for outdoor play in our secure nursery garden where they can be involved in planting seeds, art and crafts, role-play and messy play.
A huge importance will be placed on developing independence in this playroom - your child will be encouraged to help in all playroom tasks including setting up for lunch, tidying playroom areas and dressing themselves for outdoor play.
Your child will have a designated key worker who will ensure that the learning environment is challenging your child and meeting their individual needs.